Y
ou would think that feeding growing toddlers is easy. They will eat anything you put in front of them. That used to be my kids and it still is my kids when they are with anyone other than me.
Recently, meal time has been incredibly stressful and marked with projectile apples and lots of "No, no, no!" I dread mealtimes, because nothing I make seems to entice Gracie and Luke to eat. Aunt Bec has a running theory that it isn't my food, but their chairs that have them pretty much sitting on the floor. Since they won't eat at restaurants either, I don't know if this theory holds water, but I'm willing to consider anything.
This morning, after a frustrating weekend of making french toast and having it thrown at me, grilled cheese and having it thrown at me, pasta and having it thrown at me, and peeling tangerines and having them thrown at me, I made pancakes. Pancakes were one of the first foods Gracie and Luke ate by themselves.
Remember these: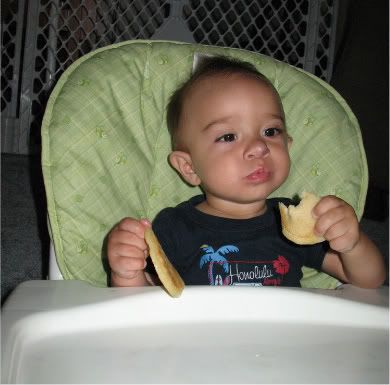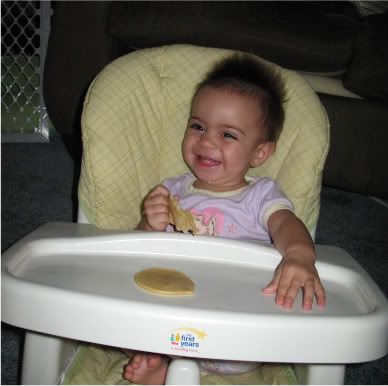 They started tugging on my nightgown almost immediately after I put the mix into the pan. So, instead of putting them in their chairs, I handed each of them a freshly made pancake and they toddled away chattering excitedly. A few minutes later, they came back asking for more pancakes. I took advantage of their hunger and handed them each another pancake. They came back one more time. Three whole pancakes!
I wonder if this means that I need to let them roam while they eat? Does being mobile while eating make the food taste better? Does it make the whole eating thing more exciting?
Help! I need some kind of hope.