N
ana, the Twinsies, and I hopped in the car and trekked to Palm Springs today. Our goal was to go to lunch at this Mexican restaurant we never remember the name of. We know what it looks like and where to find it, but when called upon to name the darn place, none of us seem to remember.
It turns out that the restaurant is called Las Casuelas. Usually, we get the Chopped Chicken salad and if we were thinking straight today, we would have ordered our usual. However, Nana and I were thrown off by the presence of Gracie and Luke, not to mention the fact that Lucas fell off of a bench and hit his head. He has a nice goose egg in the middle of his forehead. Nana ordered a combo and I ordered a Chicken and Avocado Salad.
But what we ate is not the relevant bit of this story. You see, Gracie and Luke were starving by the time we were seated. Out on the patio, there were lots of things to look at: people, birdies, motorcycles. However, Gracie and Luke were not interested in these things. Oh, no. All they cared about were the chips, and the salsa, and the guacamole!
Gracie refused to eat a chip without salsa on it. At first, I dipped them for her, but when that got boring, I pushed the little bowl to her and let her dip her chips herself. Notice the pinky action.
Lucas really had fun with the Guacamole.
By the time the meal was over, we were all covered in salsa and guacamole!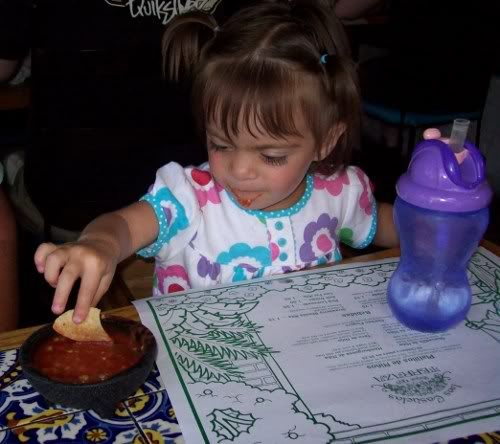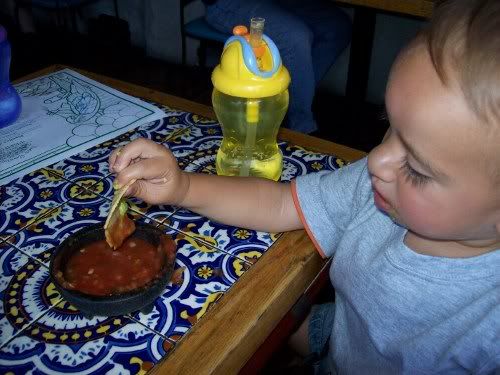 We were very happy that we drove all the way out to Palm Springs with Nana!