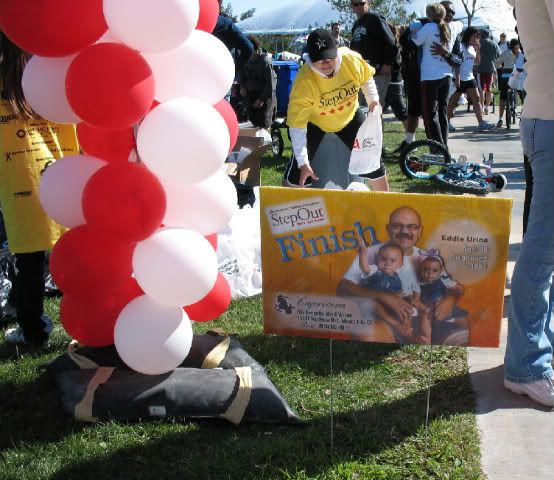 Today was the America's Walk for Diabetes (aka Step Out for Diabetes). We were up at 5:16 am (Gracie and me) because of stuffy nose and hunger. However, we got ourselves showered, dressed, and made it on time for breakfast. The Twinsies rode in their cars for the Walk while the rest of the team walked the 5 miles.
Ed had shirts made this year to remember Ida Diaz, mother to his best friend, Joe. Ida passed away just a few weeks ago after living her entire life fighting diabetes. To honor her, this year we did the Walk for her.

It was a blustery day. Something straight out of Winnie the Pooh and because my whole focus is totally skewed now, I have a ton of pictures of the babies and very few of anyone else. Gracie and Luke were in fine form, both
sporting runny noses and coughs. However, they had loads of fun riding in their cars, eating good food, and running around the grassy area with their cousins.
We were very excited to see that Ed and the Twinsies pictures made it onto 2 mile markers. They came just when we needed the inspiration.
Here is some video I took of them in their cars: