Lucas has been developing some really fun habits lately. He is obsessed with emptying everything he comes across. This includes emptying the bathtub of toys. He has also developed an unfortunate attachment to Gracie's Strawberry Shortcake purse.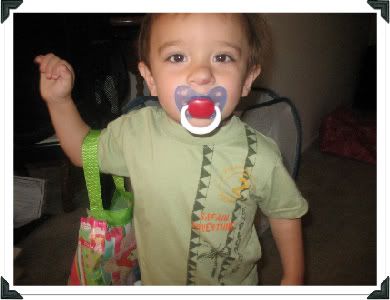 Yesterday, he decided to set his sights on my recently opened package of bottled waters. I was changing Gracie's diaper and when I looked up, I found that Lukie was taking one bottle after another out of the package and carrying them across the kitchen floor. When I let Gracie up, I grabbed the camera and caught this. It's a bit long, but bear with me. There are some great moments with Gracie saying, "agua," and both of them babbling away.
Oh, goodness! And then there is this one! You just have to see Lukie dancing to the Barney DVD playing in the background!