Daddy is back in the hospital. He couldn't keep anything down and he decided it was best that he go back. I don't know what to say. I hurt watching him be so sick and I hate that I can't make him better.

Gracie and Luke must know what is going on. They woke up at 1:30 am and kept me up until 4:30 am. I honestly don't know what I finally did to get them back to sleep. They were up at 6:30, though, so it didn't last long. All day, they've been hitting and biting each other. There have been thousands of tears shed, toys thrown, and Mommy on the brink of a breakdown.

To try to keep them occupied, I gave them a bath this morning. They played and threw toys at each other for about 30 minutes. Gracie kept biting Lukie so I decided it was time to end their bath. When I pulled them out of the water, I just had to catch this image. It is going to be awesome for blackmail one day!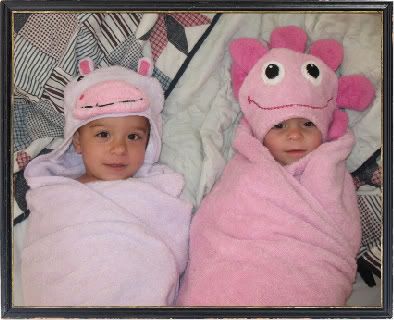 There were some moments of cooperation. Gracie and Lukie "cooperated" their way to tearing up the living room. There are toys in places I won't be able to find until we move out! They "cooperated" their way to pull every single piece of dirty clothing out of the basket and dragged them all over the room. They "cooperated" their way to 6 poopy diapers. (Yes, I just went there.)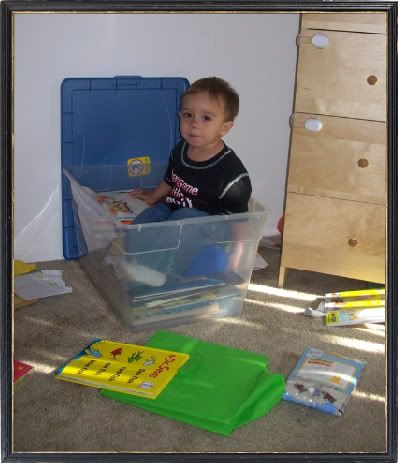 Gracie decided it would be fun to climb on every surface she could wriggle herself up onto. At one point, I turned to discover that she had climbed on top of the computer table and was sitting on top of Daddy's laptop dialing the telephone. I took a picture of it. How could I not?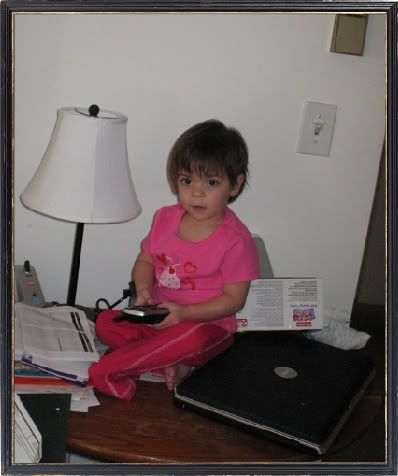 Lukie joined in the fun.
Gracie refused to let me put her ponytails in her hair so that she could wear her Valentine's bows. As a result, she sported a side ponytail for the better part of the day.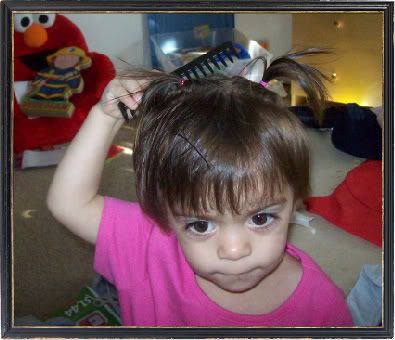 I had Valentine's Day outfits for both of them. Lukie's shirt says "handsome little devil."

I never did get a good picture of Gracie's "sweet Valentine's Day" shirt.
Around 2:30, we headed out to deliver our Valentines to Grandma, Grandpa, Abuelita and the tios. The ladies at Grandma's shop enjoyed oohing and aahing over how much Gracie and Lukie have grown.
By far, our highlight was on the way home from Fresh N Easy. This is the typical behavior of Twinsies in the car. Enjoy!