Last year, my mom mentioned the name of a new store that was opening in Upland. It was called Fresh N Easy. Honestly, I thought it was something like Whole Paycheck (oops!) Foods. I never had any intention of going there. It sounded chi-chi-la-la. I don't have time for places like those.

Interestingly enough, when we moved into our apartment, we realized that our grocery options were limited. There's a Ralph's a few streets up, but they are really expensive. There's a Jons, but I just can't shop at a place that was a Vons, but erased the left part of the V. We were driving around one day and, surprise, there was a Fresh N Easy a few blocks east of our temporary home. We decided to check it out. We needed milk and a few other things. Eddie stayed in the car with Gracie and Lukie and I headed inside.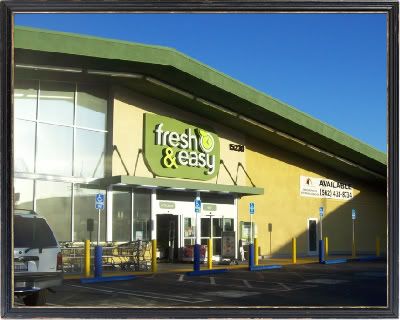 It was like a grocery wonderland, only with reasonable prices! They had sliced apples for reasonable prices, ready made meals waiting to be heated. The best part was the clearance area. They put food that is a day or so from expiring for sale 50% off or more. I bought the apples, already a great price, for 50% off. I got a chicken burrito, amazing! I got some wonderful garlic red potatoes and a chicken dish for 50% off, too. When I went up to check out, there were no checkers. It was a self-check out. I love those! So, in the end, I bought everything for $13. We had an amazing meal with leftovers for under $6.
Needless to say, I've been back several times. I've learned that Gracie and Luke need to be in their own carts or we have meltdowns. I've also learned to check out the clearance area first because stuff flies out of there. Recently, I saw an ad in the mailbox for Fresh N Easy offering a gallon of milk for $2.09. That seems impossible! I pay $2.14 when I go to Sam's Club and if I am desperate, $3.50 or more at Ralph's. Sure enough, they were seriously selling milk for that price. Even better, they are selling it for $2.09 until March 7th!
This afternoon, Gracie, Lukie and I headed over to buy our milk and look for a chocolate dessert for me for Valentine's Day. We had a great shopping expedition and found a slice of Belgian Chocolate Cake for me in the clearance area. Instead of $4.29, I paid $2.39. (I'm eating it as I write this. It tastes like a million bucks!)
As we were leaving, I saw something I never noticed before. Four of the parking spots right outside the door had this sign in front of them:

The sign reads: Reserved Parking - Adults with Children

On the pavement was this image: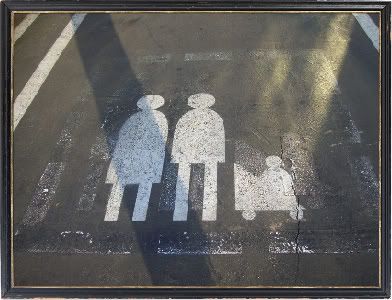 I don't know how I never noticed that! My twin mom friends and I have been talking forever about the need for Moms with little kids parking spots. The fact that Fresh N Easy actually has them makes me want to be even more loyal to them.

Eventually, we will get to move back to our house. But I'll still be shopping at the Fresh N Easy. Even if I have to drive 12 miles to get there.