This Project 365 thing is getting me to take pictures every day. That's the good news. The bad news is that I have so many adorable pictures to choose from that I don't know which I like best!
Today, Gracie and Luke went out on the patio to play, but not until I swept everything down. The Santa Ana winds are blowing all of the exposed dirt and ash from the burned hills and everything is covered with a layer of the stuff. I guess I did not do such a great job of cleaning though. Gracie came in covered with dirt. We had to do a clothing change!
Look at all those teeth!
Dirty hands and a really dirty booty!
Here's the picture for today: The result of 2 babies and a small amount of space!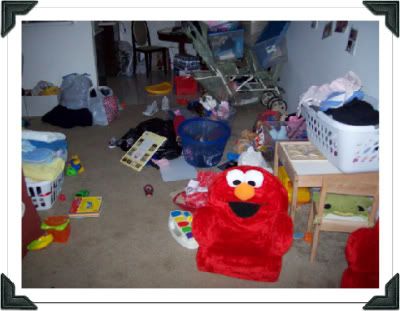 Update on Daddy: The blockage is gone and his medicine is slowing starting his digestive system again. He sounded like his old self on the phone tonight. We miss him alot and hope he will be home soon.