Since we brought them home from the hospital, Gracie and Luke have slept in the bed with us. In the beginning, it was a queen size bed with all 4 of us. As they grew and developed their thrashing sleep habits, we purchased a larger bed: a California King.

We sleep much more comfortably in the Cal King, but we still have the challenge of babies who like to snuggle as close as possible. Personally, I never sleep well with the Twinsies because I wake up when they cough, sigh, or cry out. It's horrible and it makes for very little sleep for me.
When Daddy started his stay in the hospital, I had Gracie and Luke sleep by themselves in the "big bed" and I slept out on the day bed in the living room. This was nice because I couldn't hear the little sounds they made and I could get things done (i.e. dishes, laundry, grading). We've had different variations as Twinsies have been sick and they've woken up, but most nights, it's just Gracie, Luke, their mountain of pillows and the Piglet's Big Movie soundtrack (a must have for any new parent!).
My favorite way to start the day is to come into the room and see how they are sleeping. I've found them next to each other, on top of each other, under pillows, at the other end of the bed...
This is what I found this morning: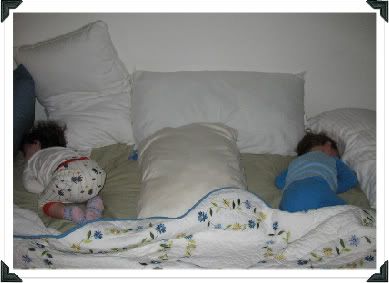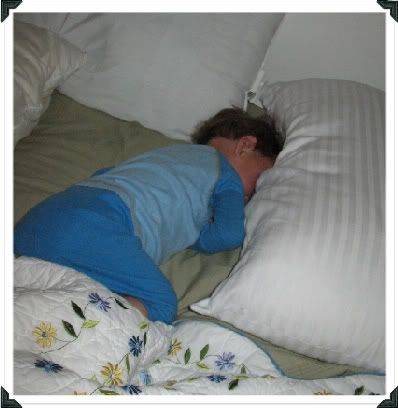 They remind me of little stink bugs with their booties in the air. It made me giggle when I came in this morning to get them ready for the ride to Grandma's house. I took all 3 pictures and nothing woke them up!