My twin mom friends and I have a special talk where we post our prayer requests. Eddie is on there as is Tia Tere who is fighting cancer. One of the moms posted a link to a blog about a little girl named Tuesday. Tuesday is 2 years old. She has cancer, a very aggressive cancer. Her mom blogs about round after round of chemotherapy, the surgeries Tuesday endures, the anxiety that accompanies the results of each scan.

Reading her mom's blog, all I could think about was how I would feel if it were Gracie or Luke in Tuesday's place. See, I'm crying again just thinking about it! On her blog, Tuesday's mom has a picture posted to remind people to pray for Tuesday every Tuesday.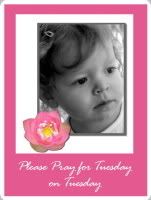 I'm adding it to my blog. I hope you will say a little prayer for this courageous little girl.

But for the grace of God...